On June 13, volunteers of Tradition, Family and Property—Louisiana (TFP) prayed the rosary in front of the State Capitol Building in Baton Rouge. This was the last stop of the first leg of the Mother of Mercy Caravan. TFP volunteers have been traveling the country, hoping to pray the rosary at each state capital for America's return to order.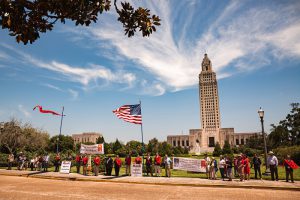 Many friends of TFP-Louisiana joined the peaceful prayer rally that numbered over 40 people in total. Passing cars honked their horns to show support, while those walking past stopped to take pictures of the spectacle.
Donate a tank of gas to help the 50 State Rosary Tour
Everyone prayed enthusiastically at the rally. Everyone sensed that the rosary was being done not only for the eyes of the public but to make public reparation before God and beg Him to intervene in this present time of crisis.
All were happy to have been a part of this event. Praying for our country has never been more urgent than now.