On April 19, 2019, TFP New Orleans and America Needs Fatima will be participating in the traditional Good Friday Nine Churches Walk.
We will process carrying the Pilgrim Virgin Statue of Our Lady of Fatima. This year's route begins at Saint Stephen's Church in Uptown New Orleans and concludes at Saint Patrick's Church in the Warehouse District.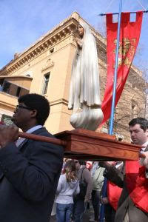 What: A walking pilgrimage to nine churches, a longstanding Catholic tradition in New Orleans. Prayers are offered at each church and along the way.
Total walking distance: 5 miles (a van will be available for those unable to walk).
When: Good Friday, April 19, 2019
10am Meet at Saint Stephen's Church, 1025 Napoleon Ave., New Orleans, LA.
The walk begins there, visiting the following churches along the route:
St. Henry
Our Lady of Good Counsel
St. Mary's Assumption
St. Alphonsus
St. Theresa
St. John the Baptist
Immaculate Conception
St. Patrick
Pilgrims will be shuttled back to St. Stephen's Church at the conclusion (or can walk if desired).
3pm (optional) Solemn Good Friday Liturgy at St. Patrick's Church, concluding with veneration of the Relic of the True Cross.
What to bring: Prayer intentions for the pilgrimage, rosary, comfortable shoes for walking, modest attire (Sunday best), any needed medications.
Optional: black umbrella for rain/sun.
Bread and water provided.
Our Lady of Sorrows, pray for us!
May I also, Lord, in the great desolations of the Church, be always faithful; may I be present in the saddest hours, unshakably preserving the certainty that Thy Spouse will triumph by the fidelity of the good because Thy protection assists her.
—The Way of the Cross, Prof. Plinio Corrêa de Oliveira