By Ben Broussard
The bright sunlight entered illuminating the stained glass. In New Orleans, known the world over for sin and debauchery, the light represented a stark contrast. As if God Himself were shining a beacon, these windows that were testaments of the faith of past generations preached a silent sermon to the multitudes, calling them back to the true path.
On Good Friday 2019, members of Tradition, Family, Property – Louisiana and America Needs Fatima led the traditional Nine Churches Walk in New Orleans. Starting at 10 a.m., the procession commenced at St. Stephen's Church in Uptown New Orleans. Four men carried a large copy of the International Pilgrim Virgin Statue of Our Lady of Fatima that was draped in purple and wearing a veil of mourning. The procession went from church to church while the faithful prayed many times the Sorrowful Mysteries of the Most Holy Rosary.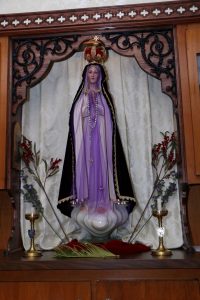 Thus, some fifty pious souls walked along this public way of commemorating Our Lord's Passion. At each church, the pilgrims prayed the Novena to Our Lady of Sorrows. This was followed by one or two stations from The Way of the Cross by Prof. Plinio Corrêa de Oliveira. The pilgrims prayed for the intentions of benefactors, and in reparation for the sins committed in New Orleans and throughout the world. The news of Notre Dame Cathedral burning in Paris was still fresh in everyone's minds.
The sun was bright and the wind strong. A snare drum gave a militant note to the procession. Walking through neighborhoods, curious residents watched and admired at the praying of the Holy Rosary. In the central business district, tourists from hotels took photos and videos with their phones. Men removed their hats and made the Sign of the Cross on seeing the statue of Our Lady of Fatima. Even in a society where so many consider Good Friday just another workday, people still knew how to give respect to a penitential procession.
The five-mile route concluded at Saint Patrick Church in the Warehouse District. Most of the pilgrims stayed for the Good Friday Liturgy at 3 p.m.
With Our Lady's help, there will be more penitential processions in the future. May she accept our prayers and penances, and hasten to fulfill her promise at Fatima: "Finally, my Immaculate Heart will triumph!"