By Cesar Franco
Pro-life Caravan Report Day 4 – January 21, 2019
The January 21 campaign at a major intersection in the southern part of Lafayette was simply amazing. Horns were honking left, right and center.
Pro-life Caravan Report Day 5 – January 22, 2019
January 22, the 46th anniversary of Roe v. Wade found the TFP caravanners at the University of Louisiana in Lafayette. The reaction was very similar. This time, the students walking to and from classes had to listen to the chorus of horns. "When I left my class, I heard lots of honking. As I approached where it was coming from, the first thing I saw was the red flag. It was a real good surprise," said student Nicholas Drozda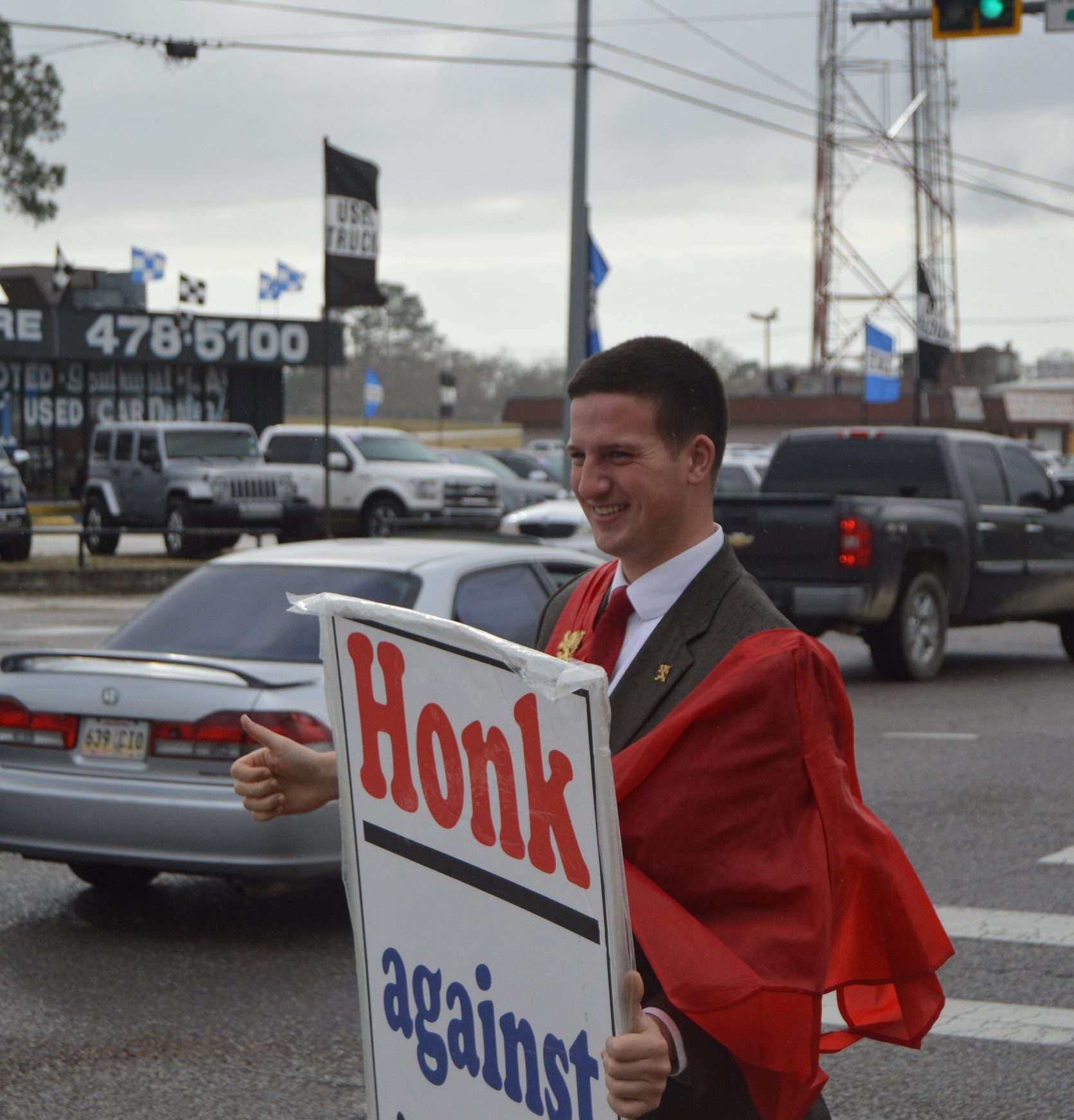 A rather amusing incident happened during the campaign. The manager of Burger King approached and asked if we could move to another corner. "My workers are having a hard time hearing the food orders being placed because of all the honking!" Caravanners were surprised that our campaign in defense of the unborn met with virtually no opposition considering it was the anniversary of Roe v. Wade.
That same afternoon found the young contingent in Lake Charles, Louisiana. Several hundred enthusiastic and resolute pro-lifers braved the possibility of being rained on and turned out.
Marching through the downtown, one could hear the sounds of bagpipes and drums being played as well as voices praying the Holy Rosary in unison. The recitation of this prayer so beloved by God and Our Lady is especially appropriate to pray at a March for Life. It is a spiritual "weapon" given to the faithful to defeat sin. In the face of the abortion onslaught, legislation and public action will fall short if not supported by the spiritual aids God has given His children.
For the caravan, the blessing of Most Rev. Glen Provost, Bishop of Lake Charles, was memorable. After greeting and saying how much he liked the bagpipes and drums, all took a knee as he gave his blessing.
Read about the rest of the Caravan here:
#1 Jan 18 – March for Life Dallas
#2 Jan 19 – March for Life Arkansas
#4 Jan 23 – Hiking, to Serve Our Lady Better
#5 Jan 24 & 25 – Beaumont & Houston
#6 Jan 26 – March for Life Austin