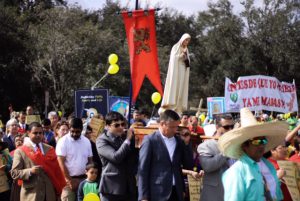 On February 8 members of TFP Texas joined around 700 Catholic pro-lifers in McAllen, Texas to publicly oppose the sin of abortion.
Most people may not know, but Roe vs Wade originated in Texas. As a result, the state has multiple marches for life. Austin, Dallas, San Antonio all have their own public rallies against abortion. McAllen, Texas is no exception. Located in the Rio Grande Valley, one has the impression of a very large town, rather than a city. It is 14 miles from the Mexican border, and a very high percentage of the locals are perfectly bilingual.
The event is officially called the Rio Grande Valley March for Life. On February 8, it began at Saint Joseph the Worker Catholic Church. The sounds of mariachi music greeted the ears of those arriving. The ambience felt more like a fiesta than a march. More and more people trickled in until speeches began, the most noteworthy being an address by His Excellency, Bishop Daniel Flores.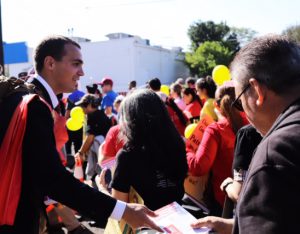 The event was refreshingly marked by the Catholic Church. A large statue of Our Lady of Guadalupe was carried in front. An actual sized statue of Our Lady of San Juan could be seen and a copy of the international pilgrim statue of Our Lady of Fatima was carried by four men high above the crowd of prolifers. The final destination was a historic church dedicated to the Sacred Heart of Jesus.
Catholics prayed the holy Rosary as a spiritual arm against abortion. They prayed loudly and devotedly, singing songs in between the decades. Locals could be seen coming out of their front doors or stopping as they shopped to watch the march go by.
Many people personally thanked the TFP and America Needs Fatima for participating and bringing the pilgrim statue of Our Lady of Fatima. TFP volunteers distributed hundreds of flyers titled, "Keeping God's Law at the Center of the Fight for America."
Seeing the pilgrim statue of Our Lady carried on high above the prolifers gave one the impression of a queen marching to victory. Certainly her promise of triumph at Fatima, Portugal will not fail and abortion sooner or later will be defeated in this country and throughout the world. Until then, prolifers must continue to advance with determination and hope awaiting that day.​​
Click here to see a video of the recent TFP pro-life caravan.