By John Paul Tomba
On March 9, 2019, members of Tradition, Family, Property -Louisiana joined over one hundred Catholics from East Texas and West Louisiana for the 8th annual Lenten Pilgrimage in Port Arthur, Texas.
Following the same format of years past, the event began with the Traditional Latin Mass at 9 AM, at the Church of Our Lady of Guadalupe, after which everyone gathered outside for the traditional blessing of pilgrims by Fr. John Kodet, FSSP (pictured below) of Regina Caeli Latin Mass Community (Houston, Tex.). The journey began shortly after that, following a police escort along the customary 5-mile route to Our Lady Queen of Peace Church. Along the way, pilgrims prayed the rosary, sang Marian hymns and were constantly encouraged by the honks, waves and astonished looks from passing traffic.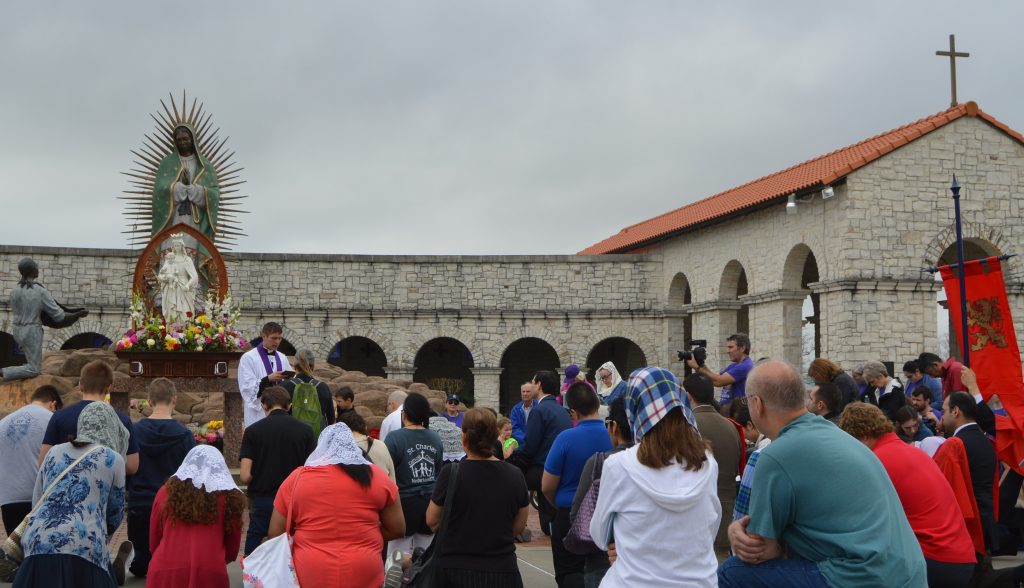 The first stop, after about 2 hours, was Saint Catherine of Sienna Catholic Church, where the local Knights of Columbus provided the pilgrims with a light lunch of fried fish and pretzels. The stop was also a welcome respite for the group of men carrying a beautiful wooden float of Our Lady handmade by Sam Florence. She was carried throughout the entire journey in a spirit of penance, as the whole ensemble weighed in at over 300 lbs.
The second destination was St. James Catholic Church where weary pilgrims were able to go to confession, while others contemplated Our Lord's agonizing journey to Calvary in the Stations of the Cross.
With the threat of rain looming, everyone pushed on through the last stage of the journey. At around 3 PM, everyone arrived at the Vietnamese Parish of Our Lady Queen of Peace.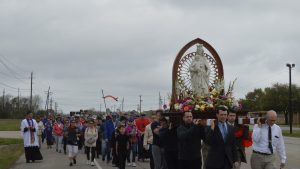 The physical journey was complete, but there was much more spiritual activity to be done. The Church of Our Lady Queen of Peace is built in the Vietnamese style, complete with a large garden as well as a larger-than-life statue of Our Lady Queen of Peace. Thus, the pilgrimage concluded there in front of Our Lady with the Catholic Church's official blessing for pilgrims after the pilgrimage. There were more hymns led by the choir as well as private prayers of thanksgiving.
The annual procession is sponsored by the Latin Mass Society of Beaumont, Tradition Family Property – Louisiana, Militia Immaculata (Beaumont) and the Knights of Columbus Sacred Heart Council. The noble dedication of one remarkable family has made this into a major yearly event.