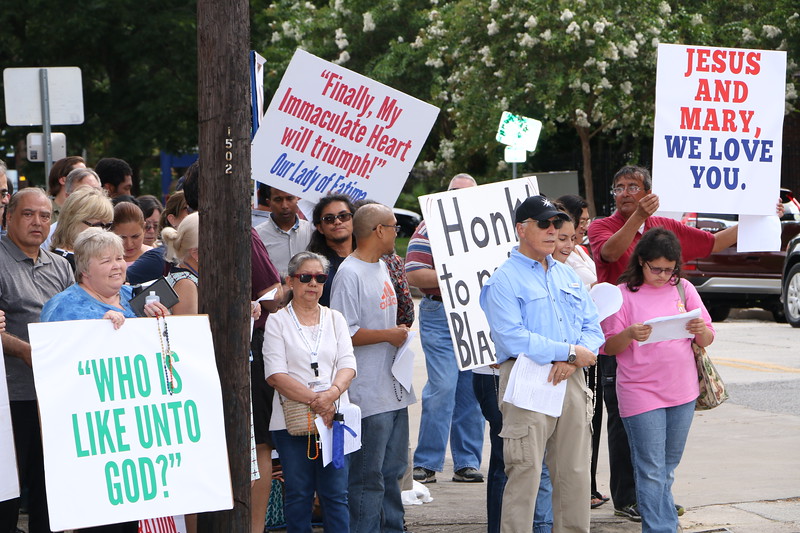 By Zechariah Long
On August 12, 2017, America Needs Fatima organized yet another anti-blasphemy rally. The P-Christ blasphemy once again reared its ugly head. The blasphemy is a color photograph of a crucifix immersed in the artist's urine. It came to the Station Museum of Contemporary Art in June, 2017, and America Needs Fatima has been doing rallies of reparation since then and will continue until it leaves.
The rally on August 12th at 4:30 p.m. was attended by a large crowd of enthusiastic Catholic Texans. A group had arrived early and was forming around a large statue of Our Lady of Fatima, brought by a participant, while others were holding the America Needs Fatima banner and signs boldly proclaiming their rejection of the blasphemy. Before long everyone had spread out along the sidewalk in front of the museum, rosaries at the ready.
One gentleman in a wheelchair came to the protest, sparing himself no excuse to defend the honor of Our Lord. In spite of daunting physical challenges, this soldier of Christ was the first to arrive at the rally spot and the last to leave. This was a humbling lesson for all of us. Is not Our Lord worthy of overcoming every obstacle we may have?
It was beautiful to see the joy on peoples' faces as they slowly trickled in. When they saw the formidable presence of the first group their faces lit up. What brought so much joy and happiness was the realization that they were not alone. In the immense city of Houston, where sin is so rampant, they are not alone in the fight. They are not alone in saying "NO! We will not stand by idle as Our Lord is blasphemed and persecuted."
The full Rosary was prayed along with Catholic hymns and other prayer or reparation. Slogans were given between each decade:
Why are we here?: Like Mary at the foot of the cross, we are here to console Jesus.
Blasphemy! A sin that cries out to heaven for vengeance!
Reparation! Reparation! Reparation!
Thus, with the echoes of these slogans still reverberating off the surrounding buildings, the participants wrapped up their protest after spending nearly two hours in the Texan sun giving great glory to God.