Arkansas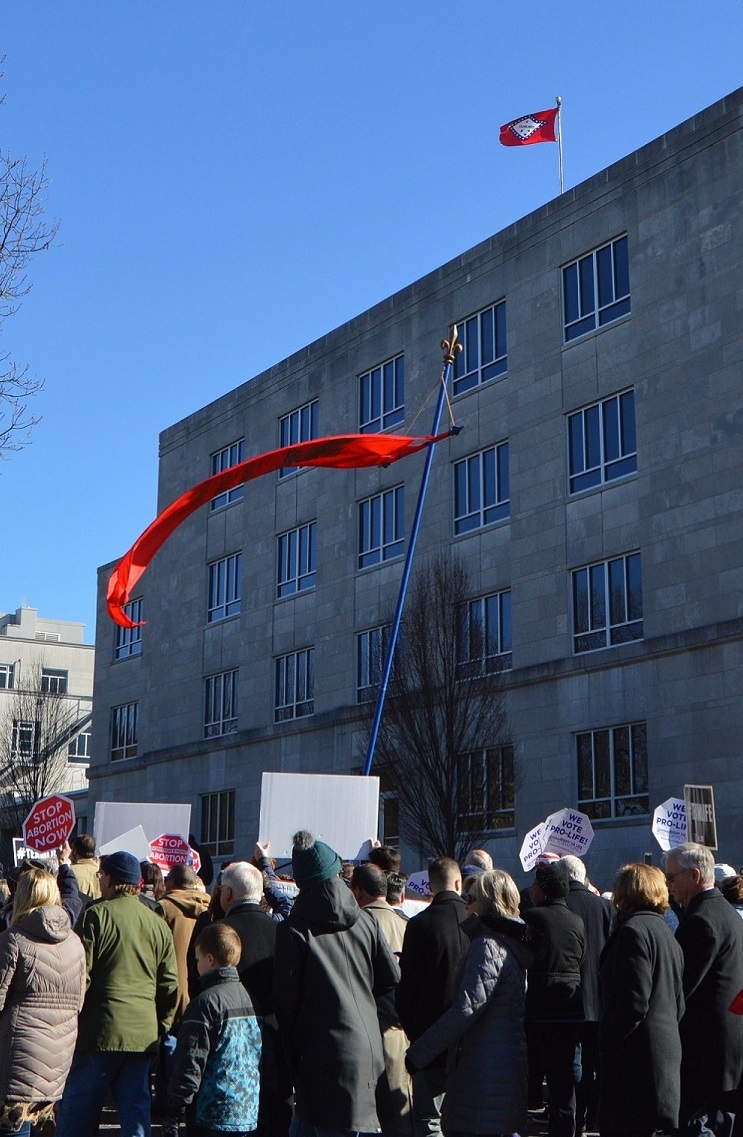 After a good night's rest in a sleeping bag on beds or the floor of a kind family, TFP-Louisiana caravanners attended Sunday Mass and then hit the road for Little Rock, AR.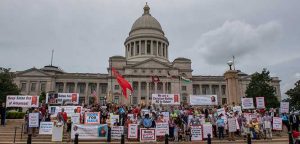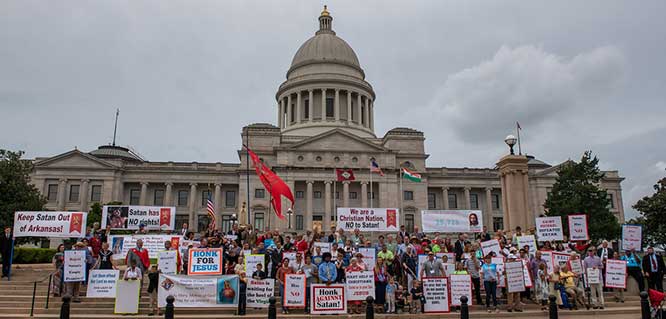 On August 15th, the feast day of Our Lady's Assumption into heaven, nearly 300 Catholics gathered in front of the Arkansas state capitol to take a stand against the devil and his nefarious works. This large-scale effort was made possible on extremely short notice due to the generous financial support and prayers we received from friends of America Needs Fatima.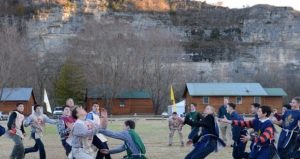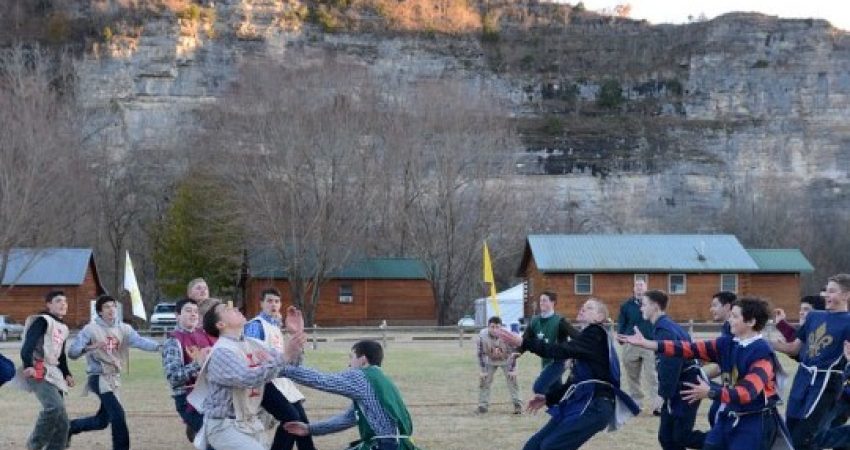 Few places rival the rugged yet majestic beauty of the Ozarks where TFP-Louisiana held its latest Call to Chivalry Fall Camp for young men and their dads. The location of the camp, perched on the edge of the Buffalo River in the heart of the Arkansan Ozarks, was perfect for the five-day adventure.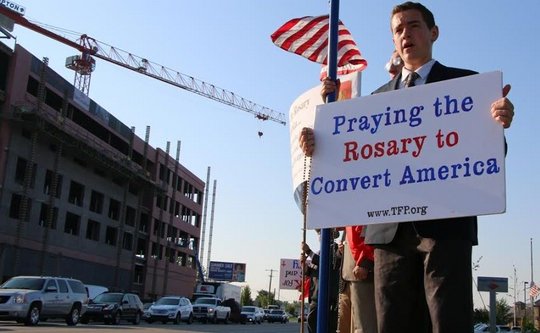 The next day, we headed on to the Fayetteville area of the state. We campaigned on a street corner in front of Wal-Mart's national headquarters in Bentonville. Many Americans reacted favorably as they drove by. One police officer in Bentonville even asked if we needed water.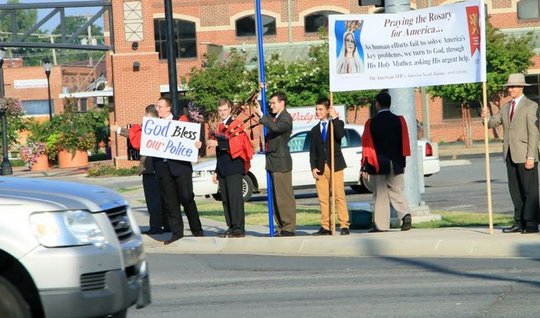 After arriving in Arkansas, the Saint Michael caravan did its first campaign in Conway. With the recent attacks on the police, we rallied the locals to support their law enforcement officers. The reaction of the public was overwhelmingly sympathetic, honking, waving, and giving thumbs up. We didn't receive any negative gestures or words.
Fierce cold and wind of a wintry night greeted everyone upon arrival. The White River, a stone's throw away, could be heard flowing by softly. Looking across the moonlit river, a cliff could be barely made out. Thus, the third Call to Chivalry Winter Camp was transported to the Scandinavian fjords, setting the stage for what was to be an adventurous and grace-filled camp. It was sponsored by TFP – Louisiana and held in the Ozarks of Arkansas at the junction of the White and Buffalo Rivers.
As the thermometer went to 105 degrees, we campaigned in downtown Mountain Home. The public, for the most part, was very supportive; the problem, as always, was the vocal minority that sought to disrupt our campaign. Besides the usual fingers and insults, one man tried to intimidate us into leaving the sidewalk. When TFP volunteer Elias Bartel pointed out that it was a public sidewalk and asked if he owned the sidewalk, the man left in a hurry.
Volunteers with Tradition Family and Property (TFP – Louisiana) were recently attacked in Little Rock during a peaceful rally against Obamacare and its HHS mandate. The incident occurred on July 17.
This first Ark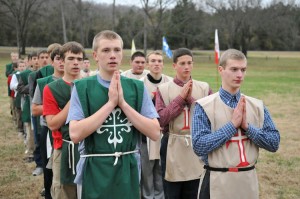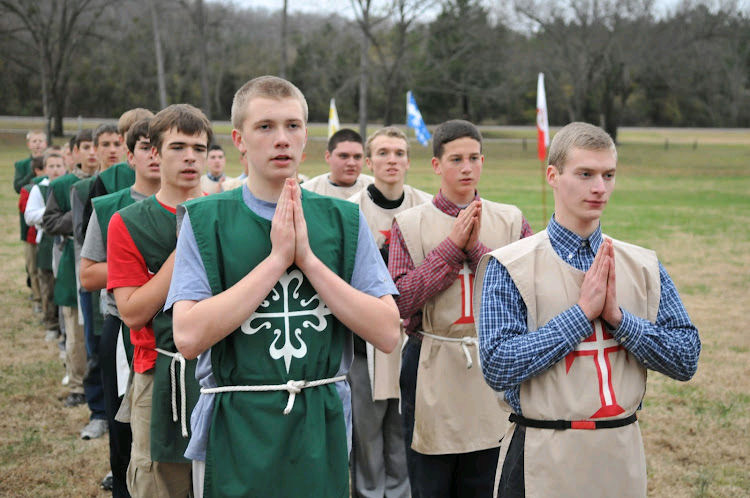 ansas Call to Chivalry Camp was graced to have a replica of the International Pilgrim Virgin Statue of Our Lady of Fatima presiding throughout