Rosary Rallies
Most people would not associate the French Quarter in New Orleans with purity. However, this infamous neighborhood is home to a famous monument honoring someone renowned for the angelic virtue.
On April 28, 2019, members of TFP-Texas joined other pro-life activists outside of Lockwood Skating palace in Houston to protest an abortion fundraiser being held by the pro-abortion Lilith Fund. The Catholic faithful at the site held pro-life signs and prayed the Holy Rosary.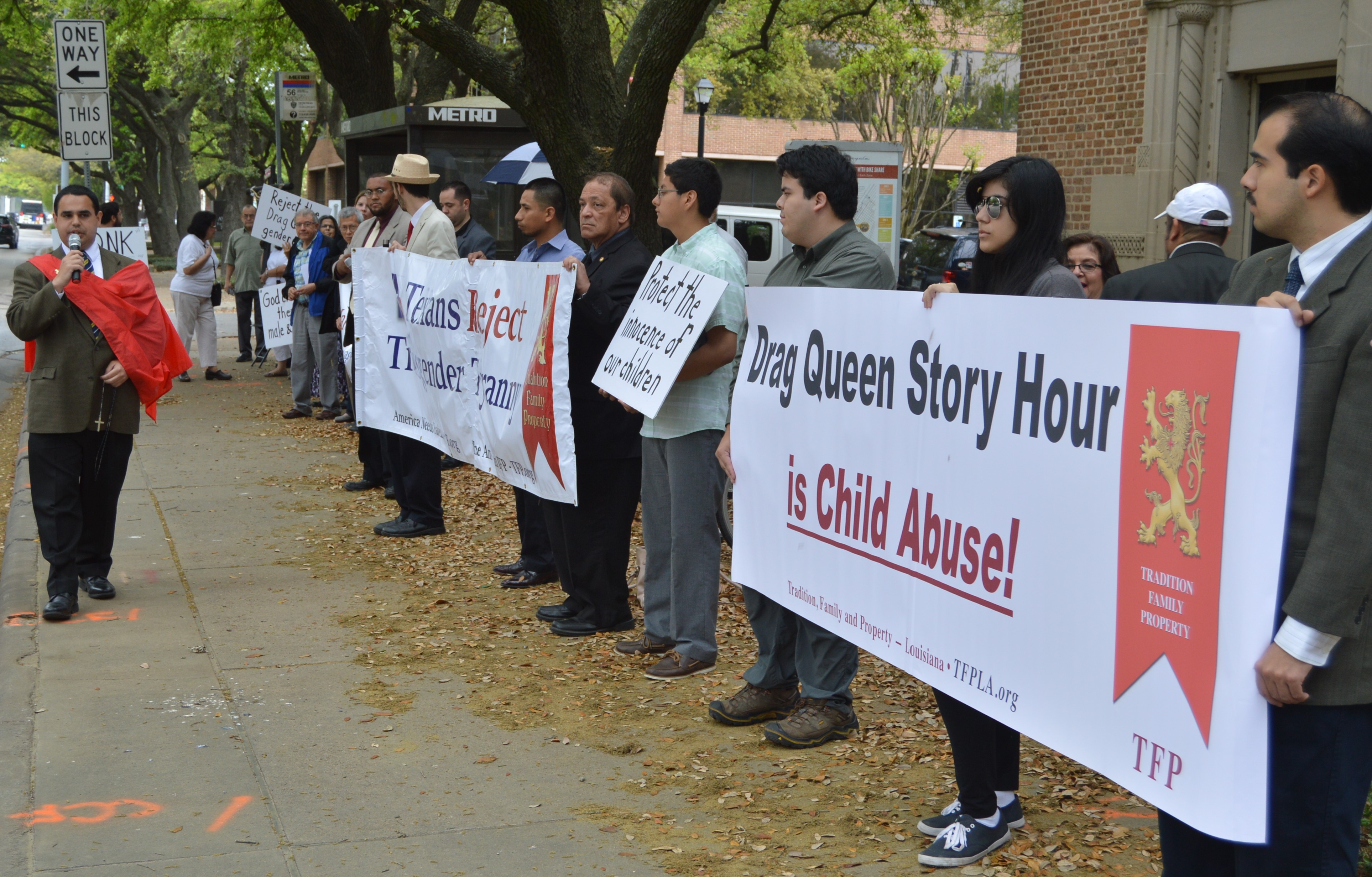 On March 30, members of Tradition, Family, Property – Louisiana hosted a Rosary rally to protest against Drag Queen Story Time at the Freed-Montrose Public Library in Houston. The event features men dressed as women reading pro-homosexual materials to children as young as three years old. Protesters were outraged by the news that at least one (now two) of these storytellers is a registered sex offender. Overlooking the safety of the children, the library officials neglected to do the legally required background check on the storytellers.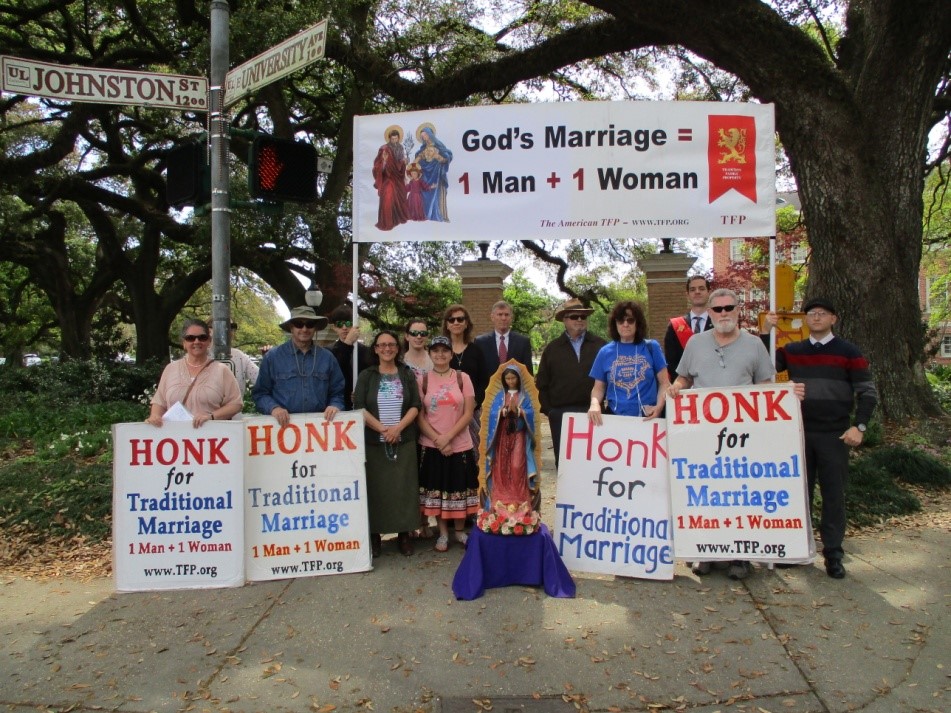 The nationwide Rosary Rallies were placed under the patronage of Saint Joseph, the protector of the Holy Family. The goal was to promote traditional marriage and in reparation for the sin of homosexuality. Throughout the recitation of the Holy Rosary, attendees easily captured the attention of passing traffic with the unmistakable "God's Marriage = 1 Man + 1 Woman" banner. In addition, large vivid signs that read "Honk for Traditional Marriage" gave those in traffic a way to show support.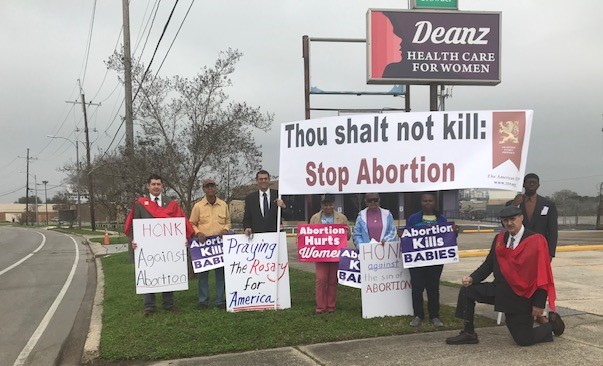 On Saturday February 16, TFP Louisiana led a Rosary Rally Against Abortion in New Orleans East. This was held where Dr. Rashonda Dean wants to open an abortion facility. According to public records, she has already killed more than 15,000 babies through abortion. Her desire here is to have an abortion-only business.
On Saturday, January 12th, TFP-Louisiana members in Houston participated in the first monthly public rosary rally of 2019. The rally focused on praying for the conversion of America, and participants also held signs which asked passersby to honk their car horns for the right to life of the preborn. The rally is one of two such public events held in Houston every month.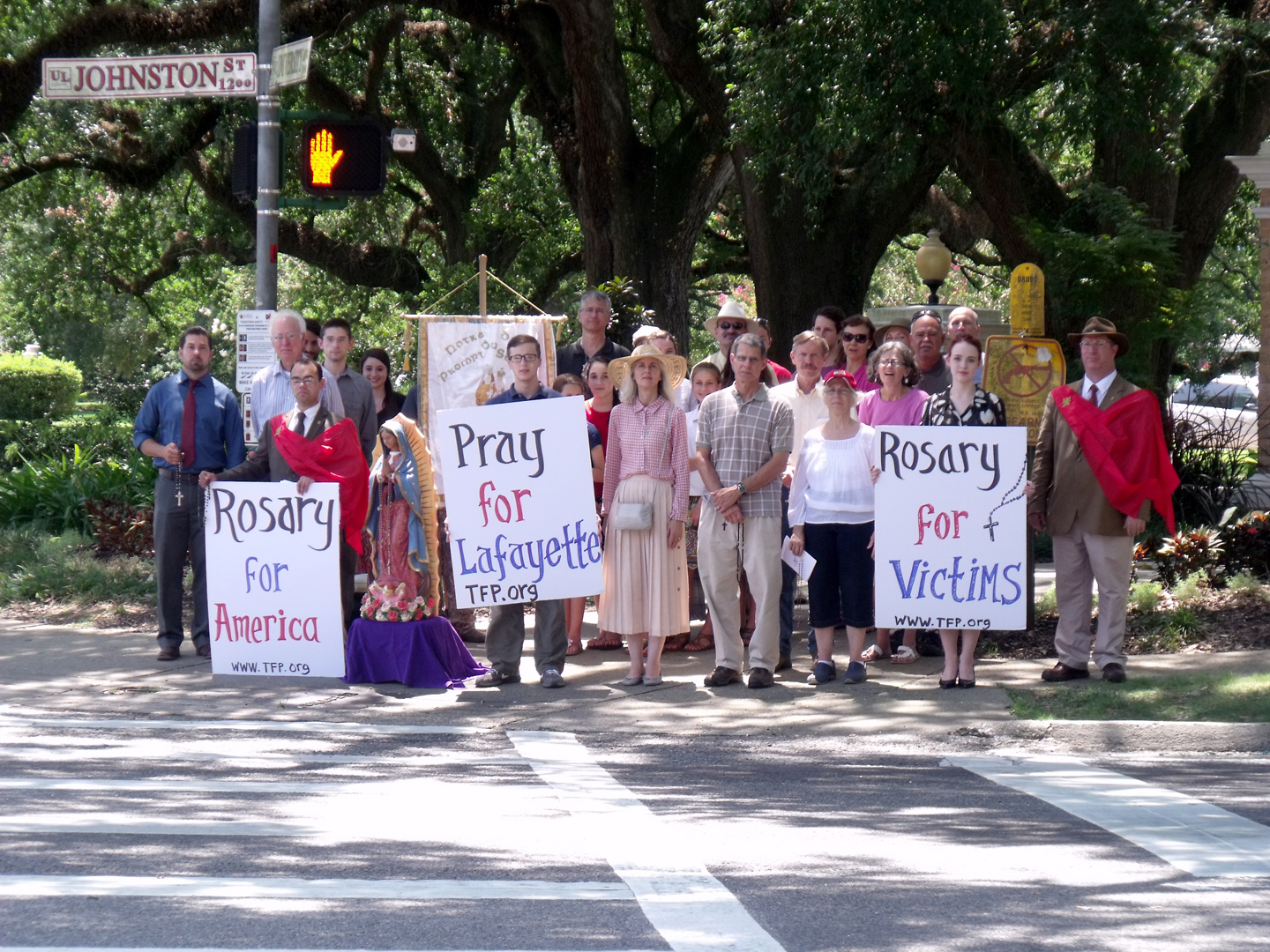 TFP-Louisiana and America Needs Fatima held its usual end-of-the-month Public Square Rosary in Lafayette. Gathering peacefully each month for nearly six years to pray for the families of Acadiana, for Louisiana and the Nation, this month's public Rosary was especially poignant because of the horrific shootings at the Grand Cinema last Thursday. Remembering especially the victims and their families in the Rosary, our signs invited the public to do the same.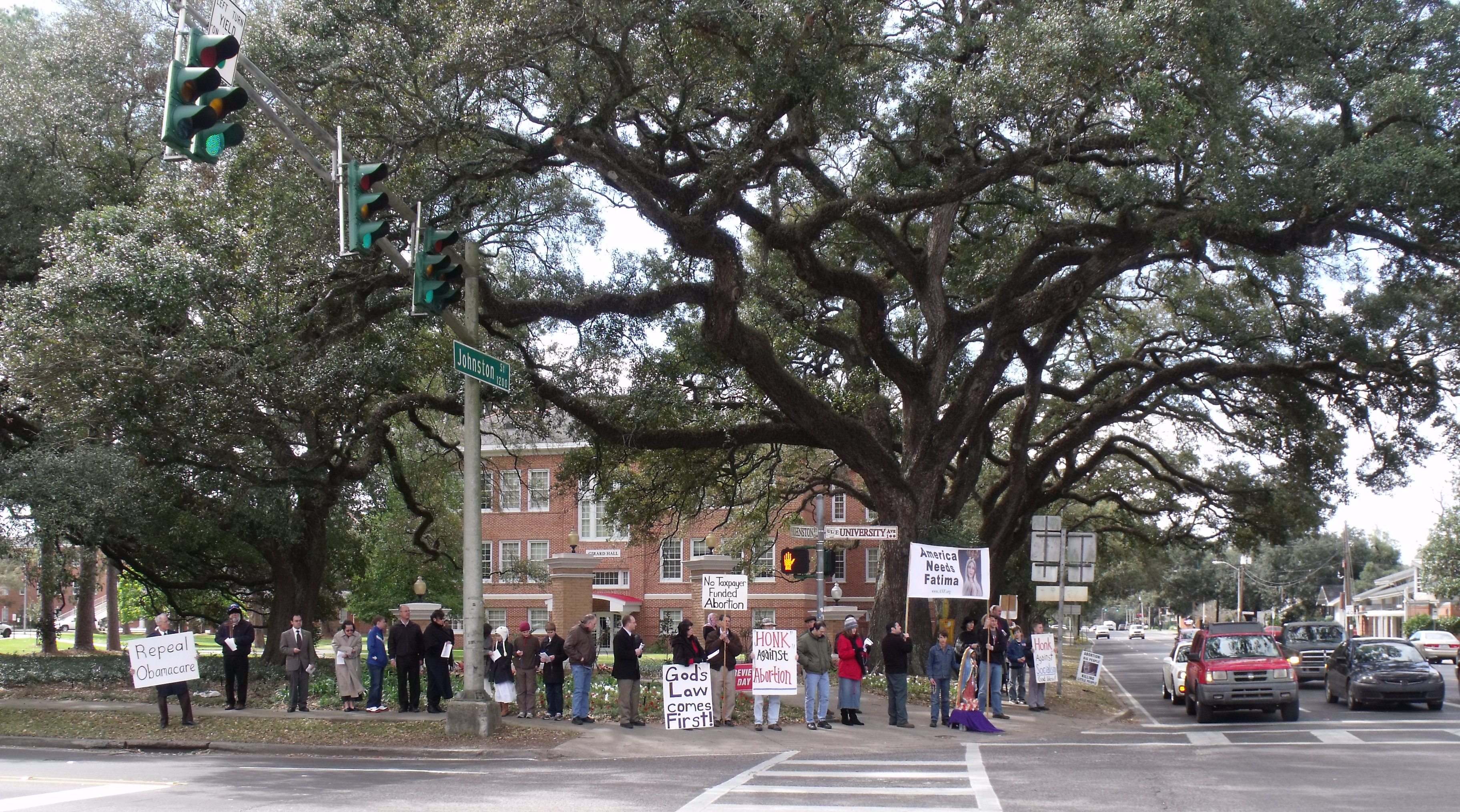 The Public Square Rosary Rally was held from 11:00 AM to noon at Johnston St. and University Ave. Under beautiful live oaks, 42 dedicated Catholics implored the Blessed Mother to shower graces upon America in an hour of dire need.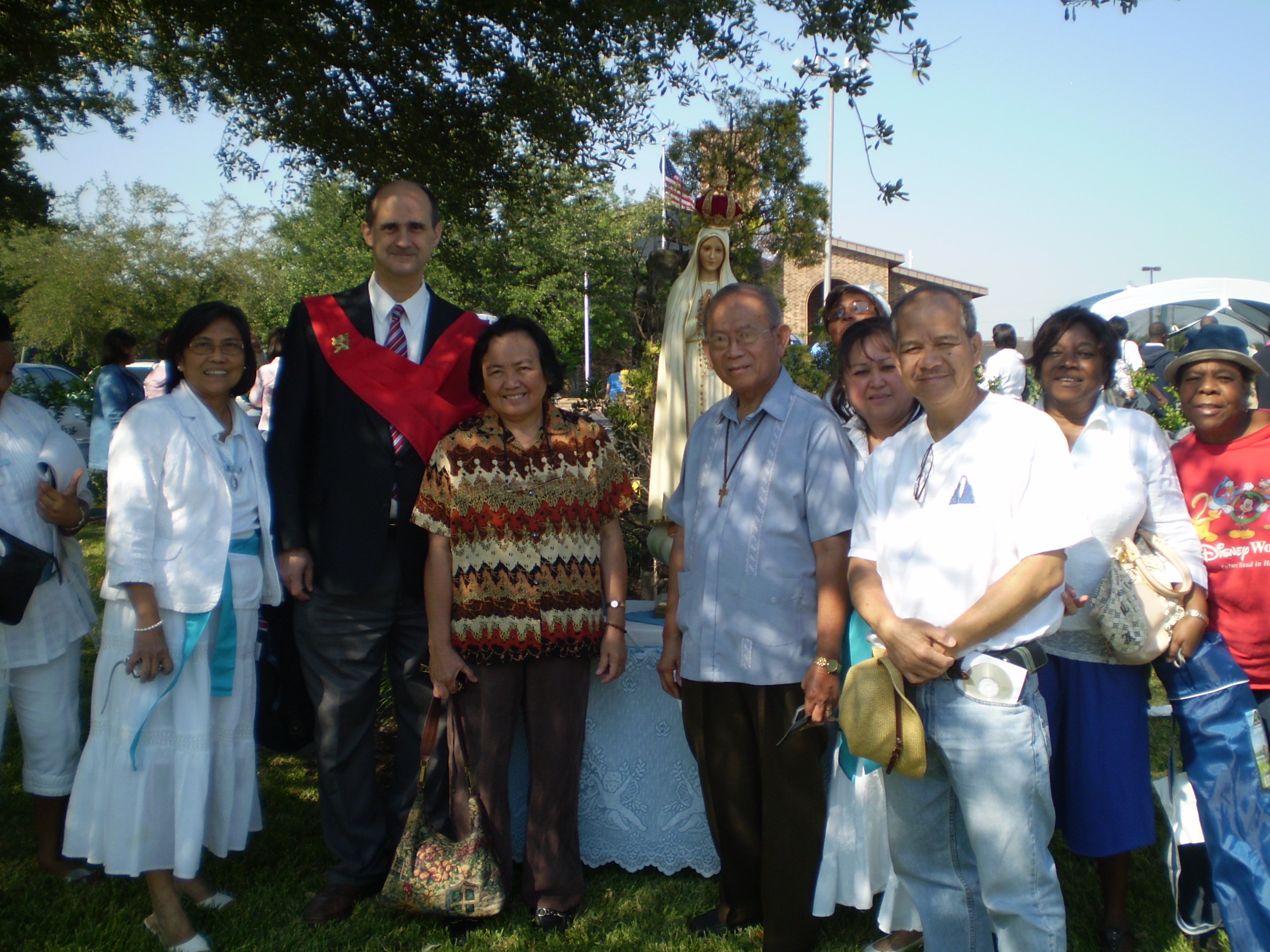 TFP – Louisiana vice-president Celso Luis Leal da Costa was at this Houston public square Rosary Rally.