by Ben Broussard
"I bind to myself today God's power to guide me, God's might to uphold me, God's wisdom to teach me, God's eye to watch over me…"
These words from the prayer known as Saint Patrick's Breastplate echoed in the streets of the French Quarter of New Orleans. On August 9, members of Tradition, Family, Property—Louisiana organized a protest against the annual Hex Fest. Gathered behind St. Louis Cathedral, the faithful began by reciting the above prayer. TFP members and supporters then lifted high the statue of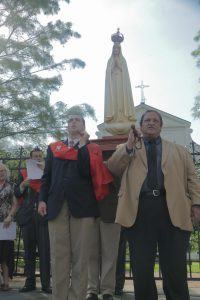 Our Lady of Fatima as they offered prayers in reparation to God for the Hex Fest taking place nearby.
The Hex Fest gathers together witches, voodoo practitioners, and occultists at the Bourbon-Orleans Hotel behind St. Louis Cathedral. The hotel used to be the convent of the Sisters of the Holy Family founded by Ven. Henriette Delille. The event organizers chose this venue because it used to be a convent. Where Catholic religious sisters used to sing God's praises, local and international occultists organized a full program of diabolical presentations and ceremonies.
The Catholic protesters outside the hotel recited the Joyful Mysteries of the Holy Rosary and then processed through the streets. As the prayers of the rosary reverberated off the buildings, curious onlookers took pictures and video. Others just stared, taking in this unexpected Catholic procession.
"Arise then, O invincible Prince, bring help against the attacks of the lost spirits to the people of God, and give them the victory."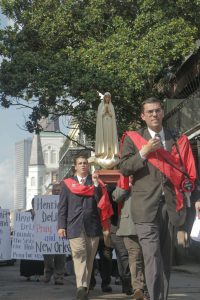 These bold words of Pope Leo XIII to Saint Michael rang out at the St. Joan of Arc monument in front of a large crowd of tourists, locals, and vendors. The protesters prayed the Saint Michael Chaplet and the Litany of Saint Joan of Arc. The golden equestrian statue of Saint Joan of Arc gleamed in the morning sun, fronted by the statue of Our Lady of Fatima and signs opposing the immoral Hex Fest.
"Saint Joan of Arc, pray for us! Reparation! Reparation! Reparation!"
The protesters next marched to the Mississippi River and concluded in Jackson Square. Hymns to the Blessed Mother were sung.
"Blessed be God in His angels and in His saints."
The official act of public reparation concluded with the Divine Praises. Many participants, however, chose to go to St. Louis Cemetery #2 to lay flowers at the tomb of Ven. Henriette Delille and continue praying in reparation.
May God accept our act of reparation, and bring an end to the Hex Fest and all other sinful events in our society.