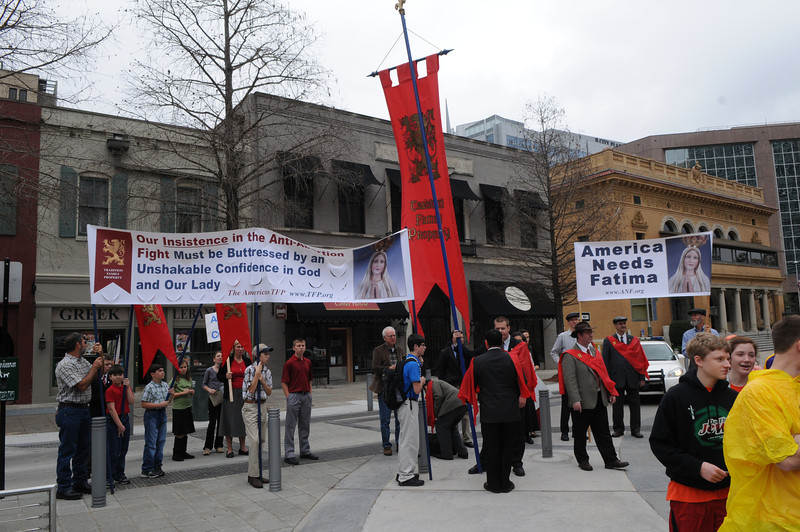 By Elias Bartel
On January 21, 2012, TFP-Louisiana was once again pleased to join pro-lifers at Louisiana's Life March. Starting at 9 a.m., the rally gathered at the historic old capitol building of Baton Rouge and processed about a mile to the current state capitol building at 10 a.m.
As in the national march for Life in Washington D.C. the majority of attendants were Catholic and proudly and publicly prayed the Rosary and sang Marian hymns while progressing through Louisiana's capitol. Thus, the march perfectly combined the humble piety of pilgrims with the spirit of crusaders on their way to victory
Recruiting students
In the days leading up to the march, TFP members went to Louisiana State University to distribute a flier inviting the students to the march and giving five convincing arguments against abortion. Most of the students had not heard about the rally but upon seeing the TFP members waving flier and hearing them say "Save human life: don't miss Saturday's march!", students quickly approached to learn about the event. To the students who said they could not attend the march, the members asked, "If it was an LSU football game, would you come?" In Louisiana, football is king, so all the students responded in the affirmative, to which the members asked, "Isn't human life much more important than football?" On the day of the march, some of those students helped carry the America Needs Fatima banner and the tall red TFP standard.
As seen in Crusade Magazine